Welcome to the home of Str8ts
Rollover time for puzzles is now set to midnight Eastern Standard Time (UK -5)

Looking for puzzles for your newspaper?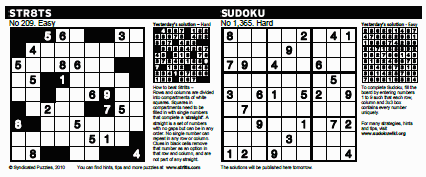 Str8ts is available as a print puzzle for all newspapers, magazines and books at a reasonable price. We discount heavily for multiple puzzles per issue and for bulk orders.
We also have a great no-cost solution for any community newsletter, magazine, school or college newspaper:
Print ready
Str8ts and/or Sudoku files in PDF format - simply register and download. Our four layouts are organized into five time periods: 3 times a week, twice a week, weekly, every two weeks and monthly. For Daily prints, please let us quote.
Register and Download link
---
Please make sure you can see version 2.15
Getting started?

For deeper strategies we have

And we've created a special

Play this puzzle on

---
Looking for the definitive number puzzle app for your iPad?




Now in the AppStore


search for '5 Daily Puzzles' on iTunes or click here for more information.
Contains 4 Str8ts puzzles, one of each grade, every day
as well as Sudoku, Killer Sudoku, Jigsaw Sudoku and Kakuro
---
---
Our Dragon's Den pitch is
up on CBC
. Many thanks for all positive responses - and we still want to hear from you if you saw the episode. If you'd like to try Str8ts - or any of our puzzles - in your newspaper or magazine,
let us know.
If you've come here to try the puzzle, welcome, and happy solving :)